The Simplify Journey
I'm no expert on the topic of simplicity, but I'm in desperate need of learning a few things. This year I've invited some outstanding bloggers to share their thoughts on how to simplify and join me in a journey.
Each week on Friday or Saturday, I publish a "Simplify" post. At the bottom of each post, like minded bloggers include their post title, link and a thumbnail photos. We learn from one another, have an opportunity to get to know other bloggers and share in conversations about how to simplify.
If you're a blogger, or if you use Facebook Notes, I'd love for you to join us as well! Saying "yes," is easy. Write your "Simplify" post, include the "Simplify" graphic (badge below) and be sure to link your URL using the Linky tool.
Let me know if you have any questions or suggestions. You can comment on the site or send me an email to cheryl at culturesmithconsulting dot com.
Related Reading
Click here to search other posts about The Simplify Journey.
Copy and paste the code below, minus the beginning and ending [brackets]:
[<a href=" http://www.culturesmithconsulting.com/the-simplify-journey/" target="_blank"><img src="http://i1136.photobucket.com/albums/n482/cherylsmith999/Badges/simplifybadgemedium.png" border="0" alt="The Simplify Journey" /></a>]
Large Graphic for post photos: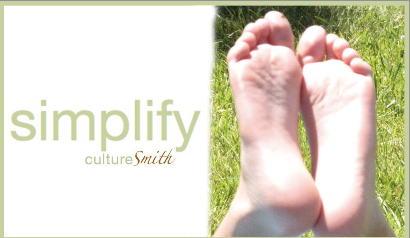 Copy and paste the code below, minus the beginning and ending [brackets]:
[<a href=" http://www.culturesmithconsulting.com/the-simplify-journey/" target="_blank"><img src="http://i1136.photobucket.com/albums/n482/cherylsmith999/Badges/simplifybadgelarge.png" border="0" alt="The Simplify Journey" /></a>]